It's $2 Tuesday and our Designers have some great things in the bin today!! Check some out below!
Mosaic is filled with a variety of papers and elements to create beautiful pages with.
Charming is a beautiful kit to make pages of your little Prince Charming, your little Princess or your loved ones cherished moments and memories.
Do you have kids who like to help out in the kitchen? If so this kit is perfect for you to scrap those pictures! B2N2 Scraps has put her kit,
Someone's In The Kitchen
, in the $2 bin today (and it's normally priced at $4.99 so this is a steal!) You can scrap all your recipes as well! The coordinating
QPs
are on sale for $2.00. The coordinating
Recipe Cards
and
Cardstocks
are on sale for just $1! Make sure to snatch these pieces up while they are on sale! Post a LO, recipe, or whatever you make using this kit on
B2N2 Scraps' Facebook wall
and you'll receive a coupon to her store!
Suddenly Serene is a perfect kit for your everyday moments.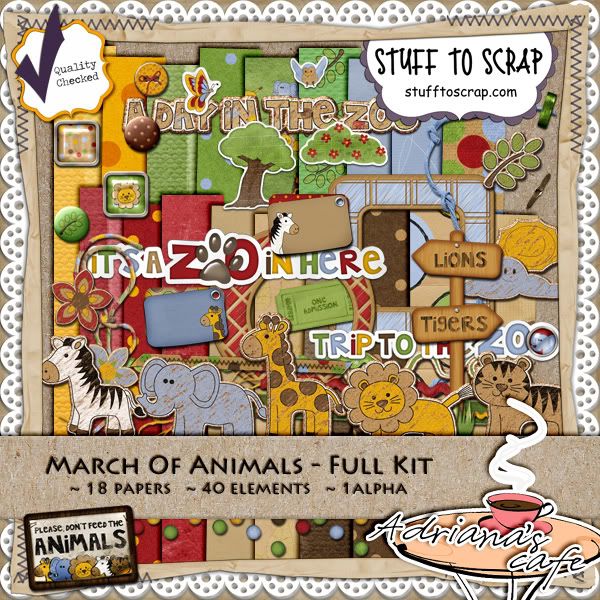 Farewell My Summer Love by Mommy Me Time Scrapper is a kit that will have you coming back to scrap with it all year long!

If you are looking for the ultimate in Independence Day celebration kits, look no further! This kit is hotter that July 4th itself. Red, White, & BBQ has a wonderful selection of grungy textured papers in traditional American colors and with a delicious selection of barbecue elements, you have all you will need to scrap your fun filled family day.
Need to scrap those Independence Day Celebration pictures quickly and get them out to your family, then grab these quick pages put in the pictures, title, journal, and they are all set to print.
Scraps N Pieces are having a Christmas in July, and they've but 2 of their Christmas kits with matching quick pages in the bin today!

Scraps by Andrea has her 2 newest kits in the bin this week. Check them out if you are in need of a colorful kit to scrap your Summer fun!

Don't miss AmyDanes Designs biggest $2 bargain EVER!!! The ABC kit is normally priced at $6.99! It is a ginormous kit with 51 papers, 3 Full Alphas, and over 700 Elements!!! (Some items are recolored or changed to reflect each letter)This HUGE ABC kit was designed so that scrappers can create amazing personalized alphabet books. All the letters A through Z have their own folder packed full of elements featuring that letter. Each letter has at least seven unique elements representing that particular letter plus fun repeating elements that are found for each one. A separate folder for Basic elements, there is everything you need to create the perfect page. They have also included a folder listing tons of photo ideas for each letter, to help you create your own album.
Also in the $2.00 Bin AmyDane Designs has Paper Dreams! A funky universal kit that will add whimsy to all your layouts.
Camping, O My, is a fabulous kit to scrap those camping adventures or other outdoor pictures.

Whether you little one is a Disney's Buzz Lightyear fanatic or if they love space, this bright colored kit is perfect to scrap with.
Are you ready to work on your heritage photos? Designs by Snowlady has the perfect kit to go with those photos of your great-grandparents or those other heritage photos you have laying around.
It's summer time and that means FAIR TIME! Whether you are a 4-H participant or just enjoying the rides and food, Designs by Snowlady has a great fair kit for you.
Pick up the
Quick Page Set
to get your scrapping done quickly!
Are you looking for a cute kit to scrap the silly, cute, little monsters in your life?! Then look no further,
In My Closet by Scrappin Serenity
is the perfect kit for you!
Pick up the
Quick Page set
to get your scrapping done quickly!