It's $2 Tuesday time!! And our designers have been busy putting some really cute stuff in the bin! Check out a few of the items in the bin below!

Looking to add to your CU Stash? Adriana's Cafe has two of her layered paper templates sets for $2 today!

Been to a summer Renaissance Festival this year? Maybe scrapping a trip to Europe? Originally a collab with Digital Scrap Fun, if you missed this kit the first time around, now is your chance to grab it before it's retired!

You Give Me Wings is the perfect kit for almost any layout, though, and it's perfect for baby, kids, and couples layouts.
This kit is perfect for all of your springtime puddle-jumping adventures, babies, and just everyday activities!
Would you like all the Sweetness items all in one? Well here it is, "The Sweetness Bundle" is full of all the sweetness items. You will get the Sweetness kit, the Sweetness Cardstock, and the Sweetness Layout Templates.

This gorgeous kit is perfect for scrapping both indoor and outdoor pictures. Whether you're scrapping pictures of the great outdoors, a cabin in the woods, vintage photos, animals or your family on vacation, this kit will meet all your needs.

It's time to gear up for all those fun Summer days spent by the pool!! Nothing beats the summer heat better than a splishin', splashin', and swimmin' in a pool!
Havin' A Splash
is the perfect kit for scrapping all those swim pictures! If you short on time and need to scrap quickly, then pick up the
Havin' A Splash Quick Pages!!
Are you looking for a cute kit to scrap the silly, cute, little monsters in your life?! Then look no further,
In My Closet
is the perfect kit for you! This kit is packet with monsters and all the essentials to make a cute boy or girl layout!! Pick up the
In My Closet Quick Pages
to help get your pictures scrapped faster!!

This one is for those of you that love HOCKEY! Fans of this sport will love this kit filled with skates, pucks, sticks and even a puck through some shattering glass.

Batter Up is the perfect for Baseball layouts, T-Ball layouts, Softball layouts, and more. The colors are great and the fun elements make it great for any type of outdoor (or indoor) photo layouts.
If you are looking for the ultimate in Independence Day celebration kits, look no further! This kit is hotter that July 4th itself. Red, White, & BBQ has a wonderful selection of grungy textured papers in traditional American colors and with a delicious selection of barbecue elements, you have all you will need to scrap your fun filled family day.

Scraps by Andrea is hosting June's Featured Designer Challenge and her entire store is 50% off for the whole month!

Most of her kits are available for $2.00 or less! Here's a new kit and an oldie but goodie!

It's My Birthday is the perfect kit for any birthday celebration.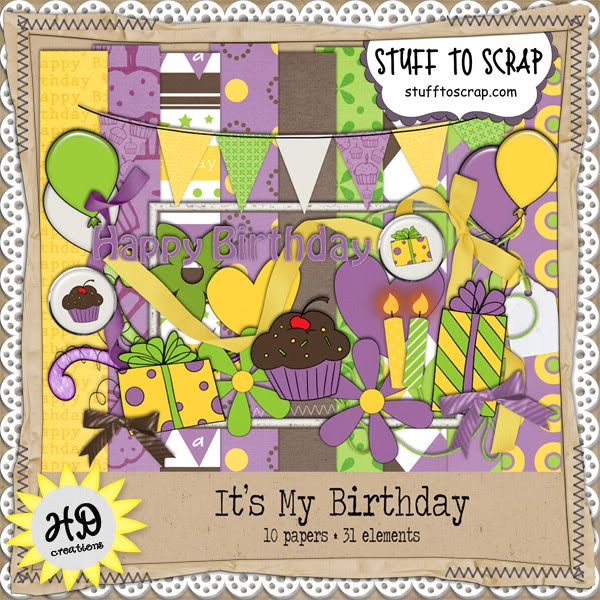 Movie night is perfect for all those movie nights at home or the drive in movies.
This beautiful kit is perfect for all sorts of scrapping moments. Not only is it perfect for Valentine's Day, but the soft palette makes it great to scrap any 'love of...' moment.
This adorable little mini is perfect for babies, kids, outdoors, just about anything. With it's pastel colors and fun embellishments you will want to scrap with it many times.
This fresh new kit will be the perfect addition to your spring collection. With soft, neutrals & a bright pop of green, this kit is a compliment to a variety of layouts.

Do you have pictures of a little pirate? Or do you just want to scrap your summer vacation photos? This is a fun pirate themed kit with lots of theme related elements and expressive backgrounds.
Are you looking for an all masculine kit with no frilly elements? Look no further! No Flowers and No Ribbons was designed with you in mind.
Sweet Baby Girl is a great kit to scrap the precious moments of your baby girl(s). This beautiful kit has lots of papers and elements that you can use for a whole baby album!
Sweet Baby Boy is a great kit to scrap the precious moments of your baby boy(s). This beautiful kit has lots of papers and elements that you can use for a whole baby album!