It's $2 Tuesday time!! And we have a lot of great kits in the bin today! Check out a few of them below!

Wake Up is a fun kit that can be used to scrap your favorite coffee shop memories.

Family Time is the perfect kit to scrap all those family memories!
"The One That Got Away" is a fun fishing kit in gorgeous colors that will show off your fishing pictures or other outdoor pictures perfectly.
Still need to catch up on those Christmas and winter pictures? Then pick up All Aboard and get caught up!

Woodland Critters is perfect for scrapping all those outdoors adventures you're going to have this summer!
Use coupon code: CC_HalfOff_Dotty to save 50% on the Snookums: Dotty Paper Pack Add-On when you purchase the full kit.


Today only!!



Whether you have pictures of a baby girl or a baby boy, you will find what you need in this kit!

Do you love playing in your yard? This kit is perfect for you. We created a great kit including all kinds of outdoor activities like BBQ, picnic, badminton, scooters, bikes, croquet, trampoline, frisbee, and sandbox. Whatever activities you like to do, you can scrap about them with this awesome kit.
This kit is so versatile you will use it over and over again for all you pictures taken Night and Day.
Here are all the little elements which you need for a layout.
This is a great kit for your backyard BBQ layouts and especially our patriotic celebrations (4th of July, Memorial Day, etc.)

This is a great kit to scrap your pioneer pictures. The colors are great and will help your pictures to pop right out.

This kit will work for all of those patriotic pages and is full of stars and stripes.

i whaley love you is a great kit for all those little loved ones in your life.

Scrap Pictures of the kids playing outside this spring and summer, or maybe of some family barbecues! From swings, to slides, to sandbox fun and even backyard barbecues,
Backyard Bliss by Scrappin Serenity
has you covered! Do You have too many pictures to scrap and not enough time? Then pick up the
Backyard Bliss Quick Page Set!
Scrappin Serenity will have a matching 5x7 Brag Book page freebie on
her blog
from this kit today.

If you have a child who is attached to a blanket or if you quilt, crochet, or knit or if you just appreciate sewing, then this kit is for you!
You'll love scrapping with this adorable kit about sleeping and bedtime!
This collab kit is full of fun, outdoor play items! Perfect for scrapping those pictures of your little one out on the playground or just enjoying the sun!
Whatever is a fun and beautiful kit for your teenager's pictures.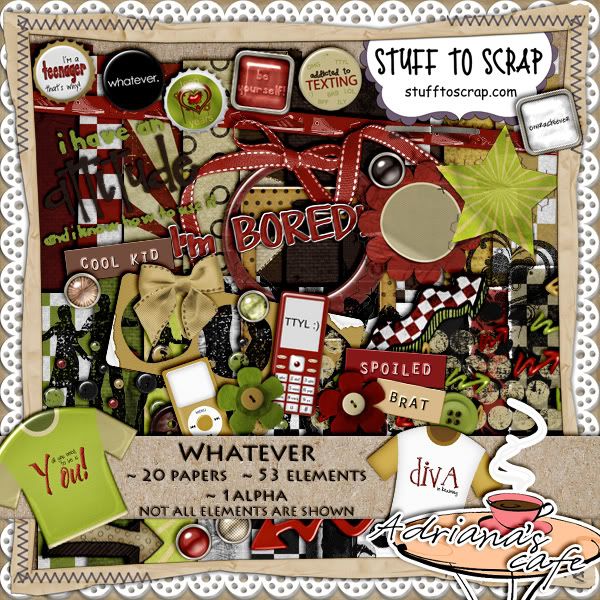 Scraps by Andrea is hosting June's Featured Designer Challenge and her entire store is 50% off for the whole month!

Most of her kits are available for $2.00 or less! Here are a couple of her favorites: