The May Build A Kit's have hit the store at Stuff to Scrap. The theme this month was Summer Sports and we had a request to do a baseball kit, so there you have it…..We made a baseball/T-ball/Softball kit for our Build A Kit pieces and it couldn't have turned out more cute. Great for your little tykes. Images are linked.
Remember that all during the month of May, you can buy Build A Kit pieces from any of the Stuff to Scrap designers and build your own mini, regular or MEGA kit with the pieces you choose! How fun is that. If you buy any 3 or more pieces from any of the designers, you can get all the pieces you purchase for 1/2 off using coupon code
MAYBAK_BUY3_SAVEHALF
OK, here is a look at the parts we made
Alpha Pack -
Element Pack
Paper Pack
Cardstock Pack
Our CT made the most adorable and awesome layouts with this kit. I just love them and I don't even like orange. LOL
Brooke's Layout – this is her daughter's T-Ball team, see, it even works for girls!
Sheri's
layout, love the date in the penant and her mixture of papers and photos on the mat strips. So, cute!
Amy's layout – love how clean and crisp this looks and love her photo treatment and word cloud.
Lindsay's layout - you have to click on this one and look at it bigger so you can see the looks on her son's face, they are priceless and make me laugh. Love how she put his name on the ball and how she did her date tag.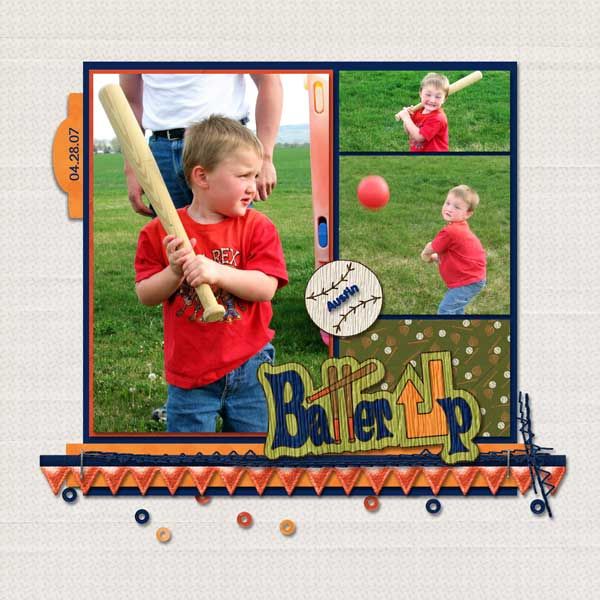 Tammy's layout – Love how she used the fence piece to mat her photo
My layout – these are old old photos, from my son's first year of coach pitch which coincidentally was his last year of baseball.