So, we've had this wild idea for a while now, and it finally all came together how to put it all together. We wanted to make custom school kits available and I happened across someone else who was doing a similar thing for wedding kits and it finally came about! We pulled our color palette choices from the NFL uniform colors, so hopefully we have pretty much all the school colors in there. This is how it works: You purchase the product. There are no downloads in the product, just instructions for you to send your color choices along with a copy of your invoice and your school name/mascot name to us and we do the rest. Fun huh! Plus, if you get permission from your school, we will actually put in your actual mascot. This kit is not on sale, but we feel it is still a steal of a deal for you since it is a custom kit. The previews are some of the kits we have made, but remember, you get to put your own school stuff in there.
Our CT layouts are varied, because they obviously all live in different areas and have a different school, but it was fun to see what they all did with their kits.
Tammy's Layouts – Lincoln Railers – her oldest daughter is in high school
Amy's layouts – Chiawana Riverhawks – her husband is the athletic director, plus she has a son in high school.
Sheri's layouts – her husband is a coach, so worked perfect for her also.
Brooke's layouts – she lives where Heidi and I graduated from high school, so we got multiple uses from this kit.
Andrea's layout – she also went to the same school as Heidi and I, although she didn't do high school layouts with the kit, we got another use from it.
Lindsay's layout – her elementary, middle school and high school are all the same colors and mascot, so this kit even worked well for her even though she has no one in high school yet.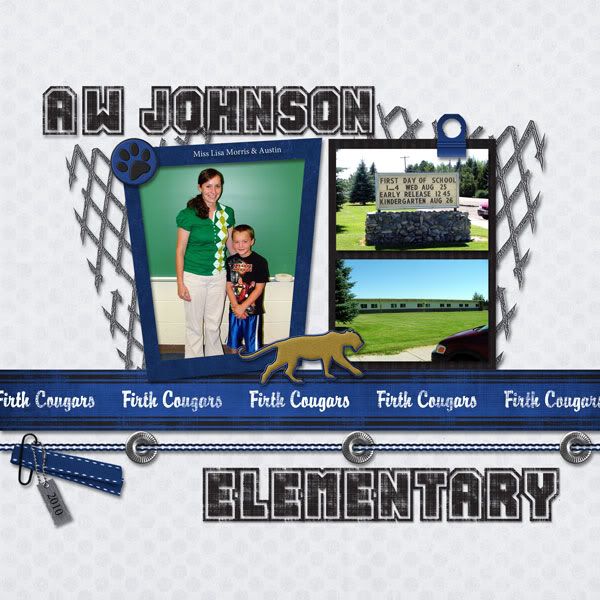 Kathy's layouts – her daughter goes into high school this coming year.
Adriana's layout – she used one of the other kits we made for just an everyday layout.
Heidi's layouts – yes, our mascot was a rabbit, but he is a dang tough rabbit! The 2nd one was made with Amy's kit
My layouts – I used the Brooke/Heidi/Lori/Andrea kit and also did some layouts with Amy's kit and the kit I made for my boys high school.
Have a great Mother's Day weekend!