It's $2 Tuesday time again!! Check out a few of the items we have in the bin below!

All American by Designs by Christi is perfect to scrap all those patriotic photos! The cute fireworks, sparkles, stars will accent any page!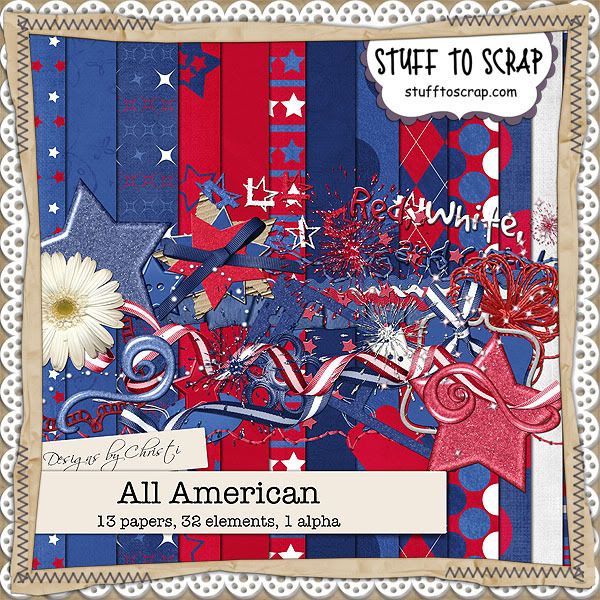 This kit by Designing Divas was made for preteens or teens who have braces or are going to the dentist. This kit is very versatile and can be used for anything!
Whether you like to cook, or just like to eat, this kit by Scraps N Pieces is for the beginner chef or the master chef and anyone in between. Great for cookbook and recipe layouts. The possibilities are endless. The Quick Page Set is also in the bin today!

Who doesn't love a great BBQ. Here is a kit by Scraps N Pieces for all of your BBQ parties. The Quick Page Set is also in the bin today!

SAHM Scrapper has two sets of her CU Friendly Templates in the bin Today!


This kit by HD Creations is perfect for scrapping the love of your life. Capture those photos and this kit will help you scrap them. The Brag Book Pages are also in the bin today!


Jensen Motley Crew Designs has a few kits in the bin today.
A fun kit to scrap just about anything.

Whether you have lots of horse pictures or not this kit can be used for all different types of scrapping.
Perfect for all your aquatic and boating adventures.
This kit can be for boys or girls, moms, dads, anyone really with bright and subtle colors to play with, balloons, air balloon, butterflies, mushrooms, plane, swing in a tree, bubbles, kites, birds, buttons and bows.
Giddy up pard'ner, it's time to scrap all your western pictures! The Old West conjures up images of cowboys, horses, cacti, and Texas wildflowers. Lone Star by Seal Scraps has that and so much more, plus versatile stars throughout!

Peach Orchard by Cutie Fruity is a full kit with peach, light blue, and cream hues that's perfect for pictures of spring blossoms, fall canning, or soft layouts of every day. The Coordinating Alpha pack will also be on sale for $1 today!

Looking for a super cute, gender neutral kit to scrap all those rainy spring days and all the fun springtime adventures? Look no further than Splish, Splash, Spring, a new kit out this week from Manda Lane Scraps. With a little rain, a little sun shine, and a few cute little animal friends along for the ride, this kit is sure to be one you'll go back to time and time again.
And you can pick up the Quick Page set for just $1.99!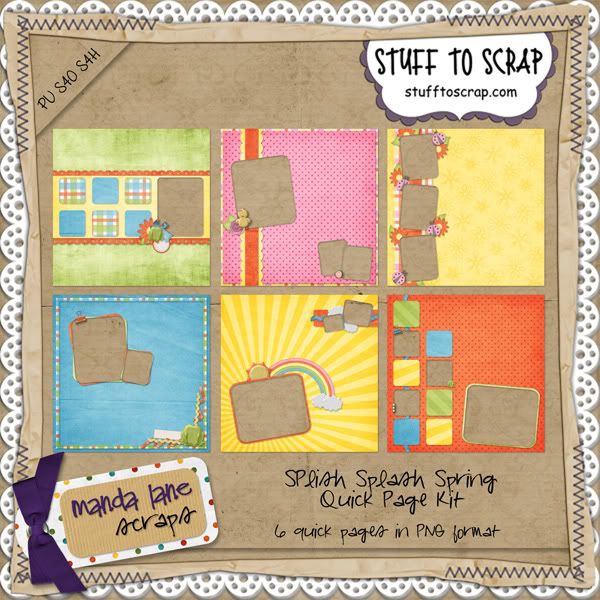 Manda Lane Scraps also has her newest release, Super Sweet Templates Volume 1 in the $2.00 bin this week. Packed with super cute scalloped edges and great picture placements, this pack will have you scrapping great pages in no time. There are 6 PU / CU templates in this pack in PSD and TIFF forms. The PNG files of the individual layers for each template are also included.
Do you have a rough and tumble little one who always seems to be getting into some kind of trouble or making a mess? That is my darling boy in a nutshell!
Double Trouble by Scrappin Serenity
would work perfect for any of those pictures of your kids playing. Scrappin Serenity has a freebie matching Quick Page on
her blog
.
Whatever by Adriana's Cafe is a fun and beautiful kit for your teenager's pictures. And the cardstocks are also 50% off today!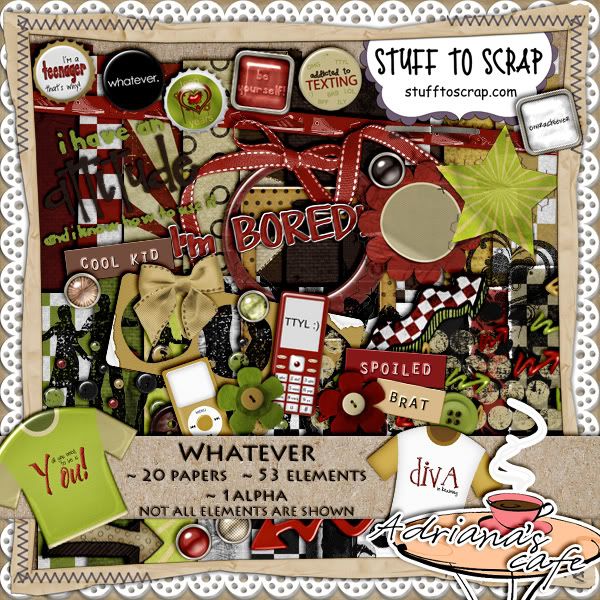 Sizzling Hot by Adriana's Cafe is a very bold, grungy and loveable kit.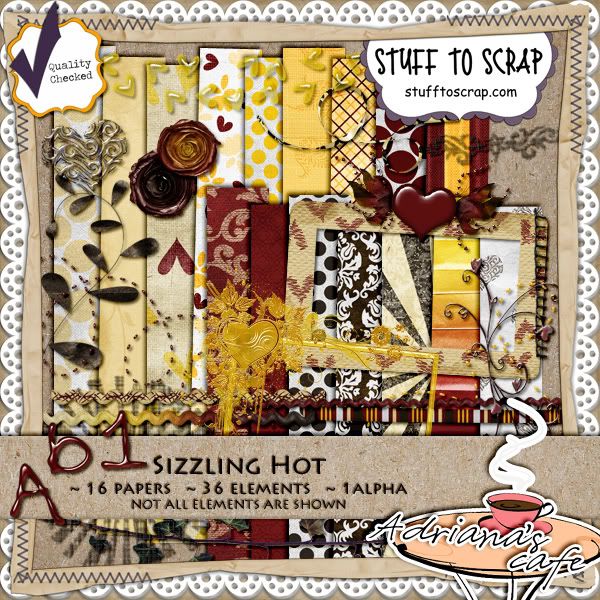 Mom2Moo created a special add on bundle to her Flutter By kit that includes 3 full alphas and 6 cardstocks. It will only be available as a bundle for $2 Tuesday.


Forget Me Not by ScrapTeam2008 is a gorgeous kit with a palette suitable for scrapping a variety of layouts.

They grow up so fast--here is a kit by ScrapTeam2008 perfect for recording all of your little boy's activities and adventures. This kit works great for all things boy and also everyday layouts with its versatile palette of blues, greens, browns and yellows
This collab kit by Meagan's Creations is full of fun, outdoor play items! Perfect for scrapping those pictures of your little one out on the playground or just enjoying the sun
There is still time to grab As Wonderful as She by Meagan's Creations and participate in the Quick Page Exchange!
Lovely Creations has the Sweetness Bundle in the $2.00 Tuesday bin. You will get all of the Sweetness goodies that goes with this kit. Hurry and grab it for only $2.00.

Need a new kit to scrap all your spring pictures? Look no further than this fun spriny kit called Let's Go Fly a Kite. The kit is just $2 and the
coordinating cardstocks
will be on sale for just $1! Grab this kit while it's at such a good price and make a layout. If you post a layout using this kit on
B2N2 Scraps' facebook wall
, you'll earn a coupon to her store. Coupons are for any amount between $1-$4 and the only way to find out how much you earn is to participate!
This brightly colored kit by Designs by Snowlady is perfect for your everyday photos.
Ladies and gentlemen start your engines! Do your little (or big) guys love racing? Do you have pictures of your favorite racer? This kit by Designs by Snowlady will help you scrap your racing photos.