We have another brand new kit for our sports series today. This one was requested by our CT member Tammy and it is a hockey kit. It is really fun! We love how it turned out. My favorite piece is the puck breaking through the glass that Heidi made. So, even though I don't have a hockey player at my house, and even though most of our CT doesn't have hockey players, you will find that this kit is great for all kinds of sport layouts, and boy layouts, and even some girl layouts.
Here is a look at the full kit that is on sale for $2.50 the first week. There is also an additional cardstock pack that you can grab with the purchase of the kit for only $1 using coupon code SNPpenaltyCS. Images are linked to the store.
Here is a better look at just the papers
and here is the spotted cardstock pack you can pick up for only $1 along with the kit.
Oh, I almost forgot, you will love the word art that comes with the kit.
So, Tammy's husband and her daughter Lia love to go to the St Louis Blues hockey games together. Here is the picture she sent us for inspiration in picking colors and getting started on the kit.
and here are her most awesome layouts!
Emily's layout - love the little tiny circle photo on the left, the whole layout is great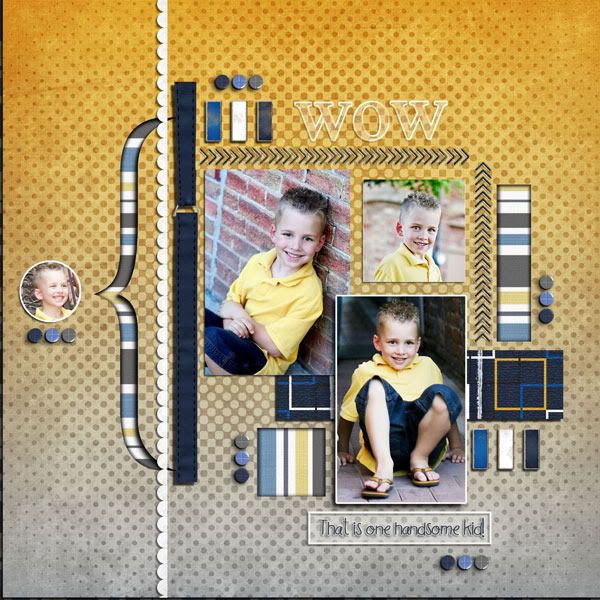 Lindsay's layouts of her tough guy
Kathy's layouts – Tammy sent her some of her extra pictures and Kathy scrapped them for her, isn't she awesome?!
Brooke's layout – she loves the kit so much she is almost convinced she wants to take up hockey.
Sheri's layouts – she is a big time Michigan fan, and these colors worked great for Michigan fan layouts even though they aren't hockey layouts. Look how cute!
Amy's layouts – this kit matched her son's middle school team colors, so worked great for her!
Adriana's layout of her little girl dressed as a boy for Carnaval.
Dana's layouts of her soccer girl!
We also have two new CT members that are technically starting in May, but I knew they had both been to hockey games, so we let them start a little early. They don't quite have their blogs set up yet, so we will introduce them in May, but here is a peek at how awesome their layouts are.
Andrea's - starting him out early as a hockey fan.
Lisa's - The went on pink in the rink night for cancer awareness, so the ice was pink
Heidi's layouts – long boarding and hockey
and finally, my layouts. We've done a few hockey birthday parties at our house many years ago, so I actually had some hockey pictures that still needed scrapping.
Hope you enjoy the kit and check back in a couple days for some fun freebies from our CT.