Hope you are all having a lovely Spring morning where you are.  If it is as cold where you are as it is here, you will want to stay indoors, buy some great kits on sale, and scrapbook your little heart away!  Here is what we have for you today.  Images are linked.
Scraps N Pieces has two kits with coordinating quick pages to help you scrapbook your Spring sports memories.  Track and Field along with Play Ball and their QP packs are all $2 each.
Designs by Snowlady has kits to help with your Spring Gardening photos with her In The Garden kit and she has also put her Our House kit for $2 today.
Grab this $2 kit from MDK Scrapper – Peanut Butter and Jelly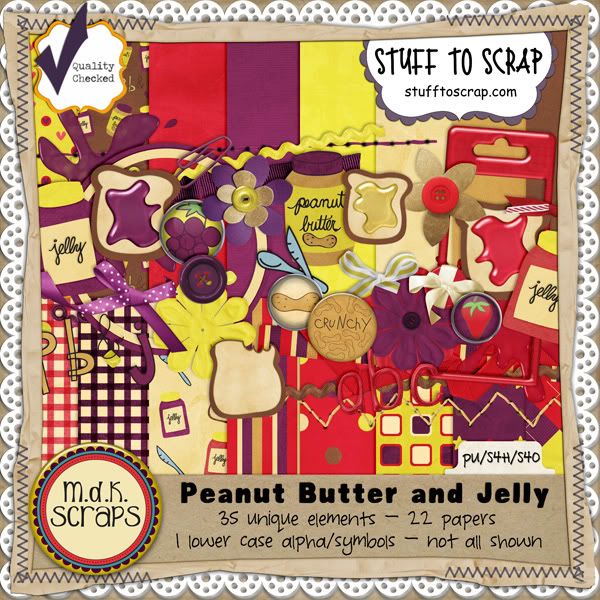 You can get the fun Paper Dreams kit from AmyDane Designs as well as one of my favorite of theirs, Snappy! with it's coordinating QP pack.
Get out into the fresh air now that it is Spring and scrap the photos of your Fresh Air Adventures with the kit with the same name from Scrapalicious Cereal.  She also has her Tread Lightly kit for $2.
Designs by Ashlee has a girl kit and a boy kit for you this week.  Pick up Totally Teen or Tiny Turtle for just $2 each.
SAHM Scrapper has her "May Showers" tribute kit called It's Raining for $2 today, great for those mud puddle jumpers at your house, along with her Dinosaur Roar kit and it's coordinating QP pack.
You can grab You Glow Girl from The Scrappy Kat in addition to her fun Whistle While You Work kit and its QP Pack.
See you next week with more great deals from the Stuff to Scrap Designers.