We are so excited to bring you our newest kit! Sheri from our CT requested a Dr. Suess type kit and I had been saving doodles and whimsical things for a while now to eventually do a kit of this type, so her request got it a little further up the line on our schedule. It was so fun to make! Here is the picture she sent us for inspiration that we pulled our color palette from.
and here is our IMAGINE kit that we ended up with! It even has a red fish, a blue fish, plus some fun hats and other whimsical stuff. I added some books after we made the preview, so if you have pictures of your kids reading, there are books in the kit too! Kit is on sale for $2.50 for the first week and you can get the additional cardstock pack for just $1 by using SNPimagineCS$1 at checkout with both the kit and cardstock pack in your cart at the same time. What a deal! Kit plus cardstocks for less than the kit would be at regular price. Image is linked to the store.
Here is a closer look at the papers included in the kit
Here is the additional cardstock pack
and I made this freebie Word Art for you to grab to go along with it! There are SOOOO Many great Dr. Suess quotes that would be great for scrapbook layouts, so, if you'd like to make one into a word art and send to me at
lori@loaner.net
. I'll put them all together and post for everyone to share and use after Valentine's day. So get them to me by mid month and then I'll post on the 16th or so. You can find a huge list
HERE
. You can download my word art
HERE
Here are the layouts from our awesome CT, who has some fun freebies for you on Monday. I'm going to start with Sheri this time, since it is her kit.
This one is of her boys in their Thing One and Thing Two tshirts
Adriana's layouts– glad to have her back after her move!
Amy's layouts
Brooke's layouts
Emily's layout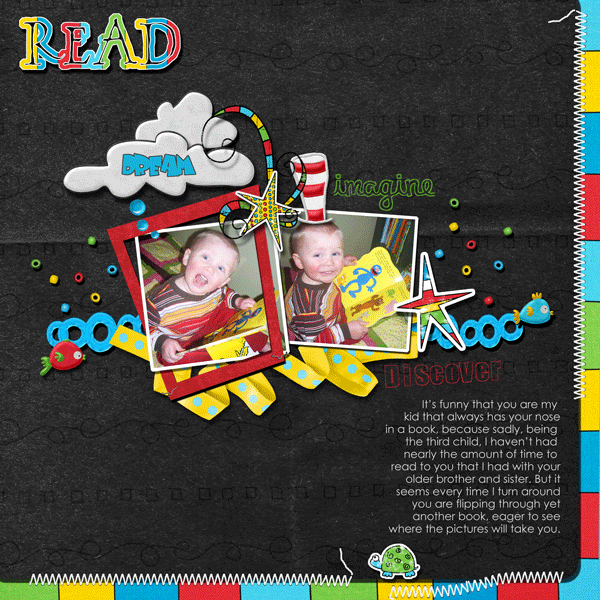 Kathy's layout
Lindsay's layouts
Tammy's layouts
Heidi's layouts
and mine
Have a great weekend!