It's time for my summer vacation, but I won't leave you without anything to do during this time*smile*
3 brandnew kits are waiting for you-
all Add ons are FREE!
The Frog King
Scrapteam just released a royal kit that includes everything needed to scrap all of your photos of your little prince and princess. The palette of purple, green and cream is gorgeous and there is a variety of elements and papers that will work for many other types of layouts too. And the upper case alpha is just so royal. I can't wait to see the layouts you add to Scrapteam's STS designer gallery. Make sure to add The Frog King add on to your cart so that you can get 3 additional papers and 4 more elements to add to your kit.
these cute layouts are from Jessica:
My Private Jungle
Have zoo pictures, jungle party pictures or just lots of outdoor pictures to scrap? My Private Jungle will be the perfect kit for those pictures. The palette of browns and greens goes fantastic with outdoor pictures and the kit contains all kinds of fun elements both basic and also jungle themed. I can't wait to see what layouts you add to Scrapteam's gallery using this kit!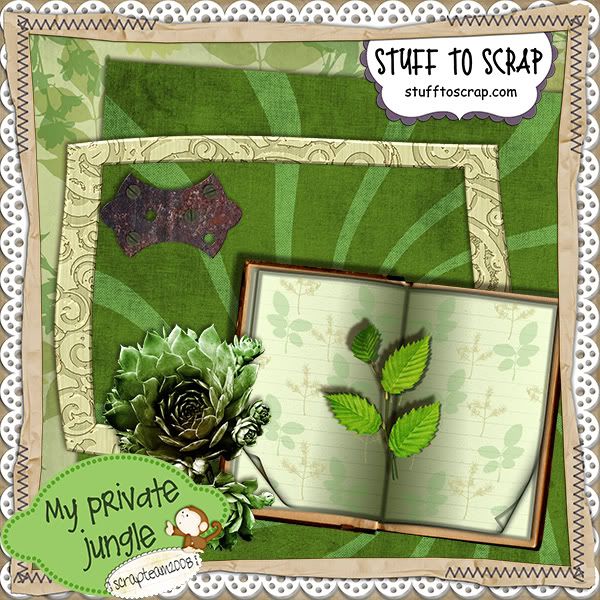 Sharky's Kingdom started as a mini for Stuff to Scrap's July Color Challenge and Scrapteam has now expanded it to a full kit! The yellows, blues and greens are fun and will help to make your photos just pop off of your layouts! The kit has 8 papers and 34 elements and the free add on adds another 5 papers, 13 elements and 2 quick pages. It is perfect for water photos and so much more. I can't wait to see what layouts you make using this kit! (Make sure to add them to Scrapteam's STS Designer gallery.)