Janice is a new designer here at Stuff to Scrap! Let's learn more about her. (Plus there is a great freebie at the end.)
Let's start with the basics:
Name: Janice Ward
Username at Stuff to Scrap: janicew
Blog Address: http://jwdigiscraps.blogspot.com
Store: http://stufftoscrap.com/store/index.php?main_page=index&manufacturers_id=22

Now that you know which designer we're talking too, lets learn a little more about them and family comes first:

Husband: Chris – we've been married almost 15 years
Kids: Jacob (11) and Joey (7)
Pets: Beyla – a 2-year old French Brittney

What do you like doing with your family?
We love to travel even though time and money don't always allow it. At home, we like to have pizza and movie nights, or go play a round of mini-golf. Here's a picture of our family on a recent trip to Michigan!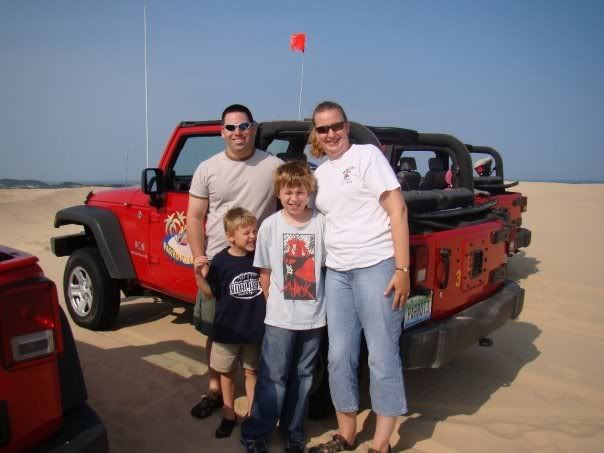 It's an alternate universe and you're computer won't turn on for an entire week, what do you do with yourself?
Cry. Then, I'd probably curl up with a good book, go for a long walk, and maybe catch up on some television shows I've been wanting to see. Of course, if I could travel somewhere new and fun, then I wouldn't mind not having my laptop at all!

Alright, the computer's all better - let's talk digi-scrapping for a few minutes.


When did you start designing and how did you learn?
I started playing around with designing in February/March of 2009. I learned mainly on my own, but I think when my designs got a lot better is when I took some classes from Jessica Sprauge. Even though they were about layouts, I learned a ton to apply in my designs. I also started doing tutorials and trying many different things from all over the web.

What program/programs do you use to design?
Primarily, I use PhotoShop Elements 7, but I will occasionally use GIMP for the pen tool to draw outlines and create element templates I need.

Where do you get your inspiration?
Everything. Greeting cards are one place. The color scheme and idea for my Vintage Garden kit came from a greeting card I saw. Sometimes just looking through CU items or brushes or even out my window, I'll be struck with an idea. My collab on August 31 with Nibbles Skribbles came when I looked out my window one day trying to think of a kit idea – and VIOLA! Inspiration!

How did you pick your digi-scrap name?
Well, JW are my initials, but the idea actually goes back to a job I once had. I signed all my little notes to my staff as JW and so they just started calling me that. I don't work there anymore, but the JW remains! Of course – DigiScraps is pretty obvious!

What's your favorite kit that you've designed?
I think my Grungy Geometry kit is my favorite. I was looking at patterned overlays and saw one and WHAMO, the whole kit sort of just appeared in my mind.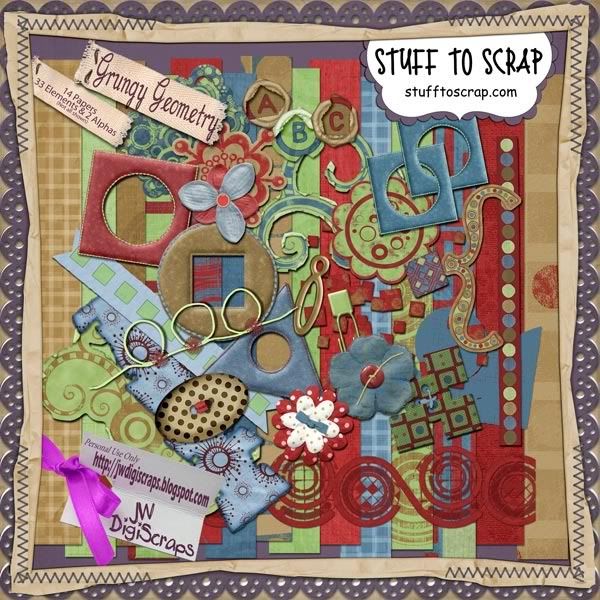 Alright, this is a hard one, but what's your least favorite?
I think any of my first kits now, but probably Michelle's Carnival. I did it as a thank you to the first person to leave a comment on my blog, but I didn't know enough about design to do a very good job in hindsight. Still appreciate that person a LOT, but don't like the kit. I won't even show you a picture. LOL!

Describe yourself in one word: Passionate!

Share a secret with us, what's something that not everyone knows about you?
I am such an open book that I'm not sure – I always joke that my deep secret is that I love to watch "Dog the Bounty Hunter", but since I admit it more often than not, I'm not sure it's a secret! LOL!

If I said you could go anywhere in the world on vacation, where would you go?
Italy! (Preferably when George Clooney is also vacationing there!)

What is your favorite food?
Good chocolate – but baked Camembert cheese (yes, instead of Brie) topped with sun-dried tomatoes, basic and garlic spread on French baguette is a favorite too!

Do you collect anything?
Not really. I used to collect music boxes, but with no place to display them, that hasn't happened in years.

What is your favorite TV show?
Geez, that's hard. Love Heroes, NCIS, How I Met Your Mother, and Big Bang Theory all pretty equally.

What is your favorite color?
Purple! (A deep plumy shade is best.)

Alright, thanks for taking the time to introduce yourself and welcome to Stuff to Scrap!
Thanks for having me as a member of the team! I'm excited to share this set of 4 12x12 quick pages with everyone. They are from my new mega kit that is available at Stuff to Scrap called Scrap It All. Plus, I have lots of freebies and extras on my blog (http://jwdigiscraps.blogspot.com) all week long, so be sure and stop by. I'm also having a big grand opening sale with 40% off! I'm hosting a Speed Scrap here at Stuff to Scrap on Thursday evening at 6:30pm MST, where you can pick up 4 more quick pages from the same set – you could finish an entire album in no time!
You'll find the download link under the preview!